Student thesis: Master Thesis and HD Thesis

Søren Mølgaard Laustsen
Roberto Reyes Pérez
This master thesis revolves around the development of an aid for children with the handicap Cerebral Palsy. The children are usually born with the condition, which limits the child's control of its muscles. They therefore have special needs regarding support and correcting of the body and to move around. The project is made in collaboration with the company Meyland-Smith, producer of aids for people with extended requirements. The project solution is based on extensive research within the context of the users, market and the company's possibilities. The aid is developed to meet the company's requirements about production as well as their possibilities on the competitive market. The product, Ugo, gives the child freedom to move around and to develop as an independent person. It aims to facilitate the movements that children with CP are not able to do on their own. The saddle seat on the aid gives the child a correct posture and enables the child to walk, even when he/she is unable to sustain balance. Ugo has an integrated motor to help the child change heights while seated, from the height of a kitchen bench to a comfortable walking height and to floor height, where the child is able to play or exit and enter the chair without assistance.
| | |
| --- | --- |
| Language | English |
| Publication date | 2010 |
| Number of pages | 139 |
| Publishing institution | Aalborg Universitet, Arkitektur & Design |
Images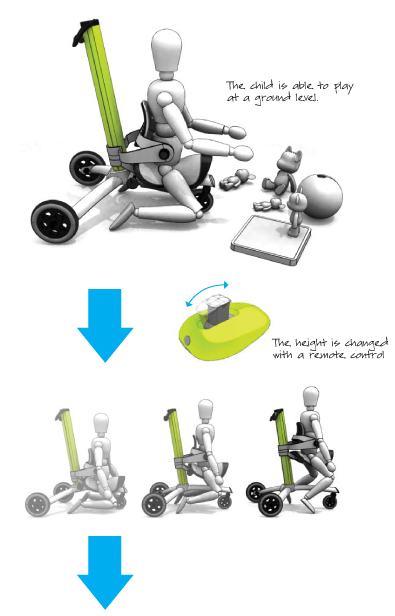 A normal day for the child involves a lot of different aids; hence the day is filled with many shifts between them. This is very demanding for the child as well as for the parents and caregivers, who are exposed to many heavy lifts. Besides, the child's independency is limited when relying on grown-up's help in order to move.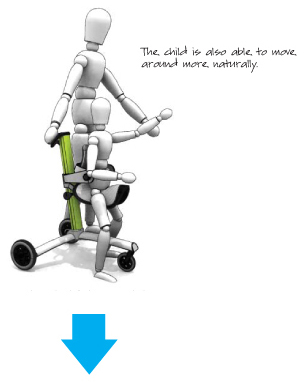 Ugo reduces the shifts between aids during the active time of the day. It can be used when playing, walking around and when working by a table –regardless of the table height. A change is only needed when switching to a training or resting aid.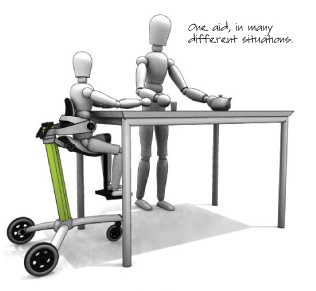 ID: 19042109