Student thesis: Master Thesis and HD Thesis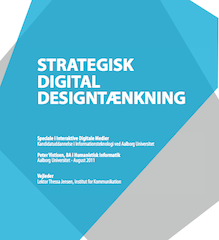 This MA-thesis deals with the emerging field of strategic design thinking in the context of digital media and information technology. The objective of the thesis is to understand the relations between the domains of digital technologies, design thinking and business strategy, and how these relations can be presented and operationalized as a pragmatic tool to facilitate strategic design thinking around digital technologies in praxis. This is examined through the construction of a theoretical framework, and through perspectives from an empirical investigation.
The thesis hypothesizes that strategic perspectives on design thinking are being hold back by conflicting rationales - primarily between the logic of business and explorative and humanistic nature of design thinking. From the author's own experiences it is derived how the practitioners are met with good intentions, but yet so often constrained by the lack of professional understanding and appreciation of the value in using 'design' as a catalyst for innovation. The thesis further suggest that the problem for practitioners is that the field of strategic design thinking is lacking a holistic understanding of itself, as well as what its relation is to other fields of praxis is. The thesis takes a theoretical perspective on the problem, setting it as its goal to create a framework, which affords both understanding and reflective action.
| | |
| --- | --- |
| Language | Danish |
| Publication date | 1 Aug 2011 |
| Number of pages | 78 |
ID: 54797134