Student thesis: Master programme thesis
"Around the child" is a multidisciplinary form of meeting with the participation of parents. The purpose of the meeting is to establish a comprehensive intervention around the child. The project deals with whether the form of the meeting has a positive effect for the child by examining how the meeting supports the parents' experience of recognition and whether it leads to transformative learning on the assumption, that it has a positive effect for the child that the parents succeed.
How the parents are prepared for the meeting and whether with their consent they can influence the content of what is being talked about is an element of the meeting.

Theoretically, I am inspired by Høilund and Juul´s (2005) concept of "Human flourishing" and their unfolding of Honneth's (2003) concept of recognition. I am equally inspired by Illeris dealing with Transformative learning, a concept he has picked up at Mezirow (Illeris 2015).

The study is based on interviews of three mothers, who all participated in the meeting, as well as professional meeting participants.
The mothers achieve something different in terms of human flourishing and transformative learning. Against this background, I have developed a theoretical model, that shows different stages of human flourishing and transformative learning.

The model shows that it can be difficult to get both elements into play at the same time, and sometimes they appear almost like the opposite of each other.

Lack of recognition leads to resentment that affects both the interaction process and the mothers' drive in learning. It is therefore important that the mothers feel as "they are". Transformative learning is about changing who you are - and this is where the balance between recognition and learning becomes difficult.
If the professionals recognize the parents as "they are," the need for change becomes invisible. If the professionals push for the parents to change, then it is perceived as abusive.

The difficulty of pushing the transformative learning process without hurting the parents can be overcome by focusing on the child's perspective and solely on how to create well-being and development for the child.

The analysis shows that "Around the child" cannot stand alone as intervention, as both human flourishing and transformative learning are a process.
But "Around the Child" is an independent effort in the process that can both support human flourishing, push for a transformative learning process and follow the transformative
learning process through to completion.

| | |
| --- | --- |
| Language | Danish |
| Publication date | 30 Jun 2020 |
| Number of pages | 48 |
Images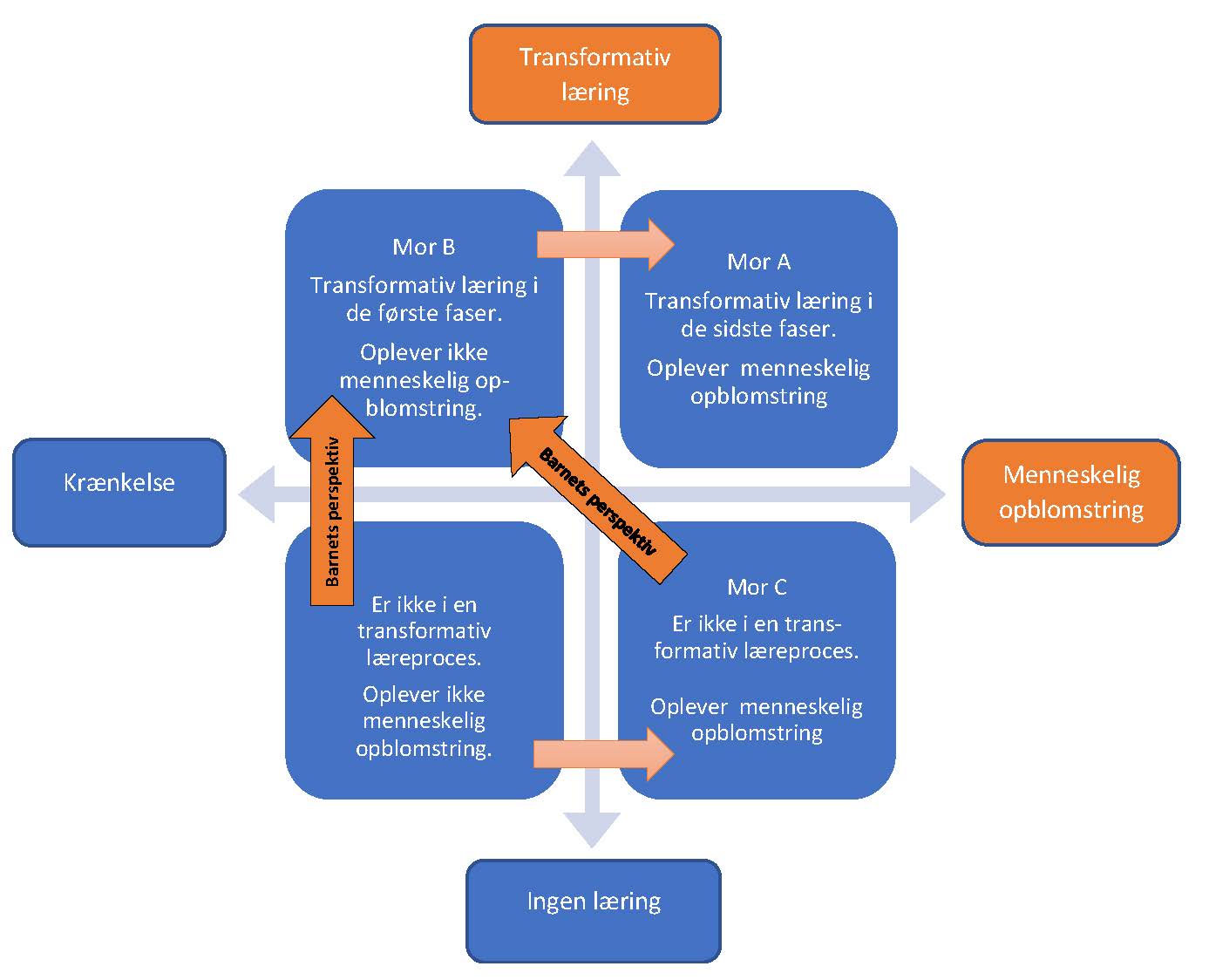 Model over samspillet mellem transformativ læring og anerkendelse
ID: 335319431