Student thesis: Master Thesis and HD Thesis
Michael Vigsø
Morten Møller Elmholt
Kristian Smedegaard Bach
Traffic-induced vibration in an urban environment can be an issue for neighbouring buildings and
residents. Modifications in the pavement or construction of speed bumps may induce inconvenient
vibration and in rare cases cause damage in buildings. Today's methods, used for estimation of
vibration from traffic, are mainly based on empirical knowledge and are relatively insecure. In
the literature several examples can be found in which traffic-induced vibration and the response
in nearby buildings are modelled numerically. However, no distinct consensus appears in the way
the models are constructed, and the uncertainties are generally significant. The following master
thesis with the title Numerical Analysis of Traffic-Induced Vibration deals with the construction
of a dynamic finite-element model for simulation of traffic-induced vibration. The model includes
a vehicle, a road, a soil body and a building.
A plain two-dimensional finite-element model of a soil body with absorbing boundary conditions is
constructed and a two-storey building is attached. A generic vehicle model is developed in which
the wheels and the suspension system are modelled as discrete spring-dashpot-mass systems. Two
types of surfaces are considered for the road: a plane surface with different types of speed bumps
and a cobblestone pavement defined by stochastic parameters. The interface between the vehicle
and the soil body is modelled using Mindlin beam elements supported by interface elements and
Kelvin foundations.
A key issue in the project is to examine the interaction effects between vehicle and soil body and
between soil body and building. The interaction between vehicle and soil body is modelled in
the time domain using three different time integration schemes: A decoupled, an explicit and an
implicit scheme. The interaction between soil body and building is modelled by including the
finite-element model of the soil body and the building in the same system.
The parameters included in the model are calibrated for a reference case in which a three-axel
vehicle similar to a Scania City bus runs across a soil of silty clay. A parameter study is conducted
in order to clarify, which parameters are essential for the magnitude of the vibration in the building.
Studies are performed for both speed bumps and cobblestone pavements. The necessity of coupling
between the individual sub parts of the model is examined by conducting simulations for both a
coupled and a decoupled model. Ultimately a three-dimensional model is developed for comparison
in order to investigate whether a two-dimensional model is applicable for simulation of the threedimensional
vibration problem.
| | |
| --- | --- |
| Language | English |
| Publication date | 10 Jun 2013 |
| Number of pages | 68 |
Images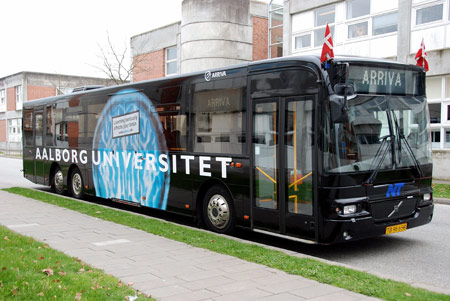 ID: 77393993