Student thesis: Master Thesis and HD Thesis
This project is a design of an after-school institution for children situated in Hjørring, Denmark, the site surrounded surrounded by fields and trees in an open landscape. The focal point regarding the institution was to create and interesting and safe envirronment for 60 children on a concept of building landscapes both inside and outside. The building is centered on the plot with the front facing south and surrounded by clusters of trees, rises, animals and little tree houses programmed with different activities. The purpose of the tree houses is repeated inside, contributing by containing different facilities while creating playing space between them. Two circular rooms, the lunch room and the fairytale den, represents community spirit while breaking the façade visually. The elements give the building a more playful expression to a very systematic structure. Soaring above the building is a sculptural roof, framing the façade in sections implying shapes of little houses. The institution is arranged with little nooks and alcoves, both inside and out, which results from the placement of the little houses and plantation, and the main rooms exists without the use of walls. The result is an institution defined by its entire site both indoor and outdoor spaces. The minimalistic architecture is a fine contrast to the surrounding nature and brings harmony between the two. The building creates a new identity, meanwhile being deliberately designed for this place. The entire architecture is driven by the idea of a childrens universe inspired by nature and the joy it brings these children everyday.
| | |
| --- | --- |
| Language | Danish |
| Publication date | 2009 |
| Number of pages | 151 |
| Publishing institution | AAU, Arkitektur & Design |
Images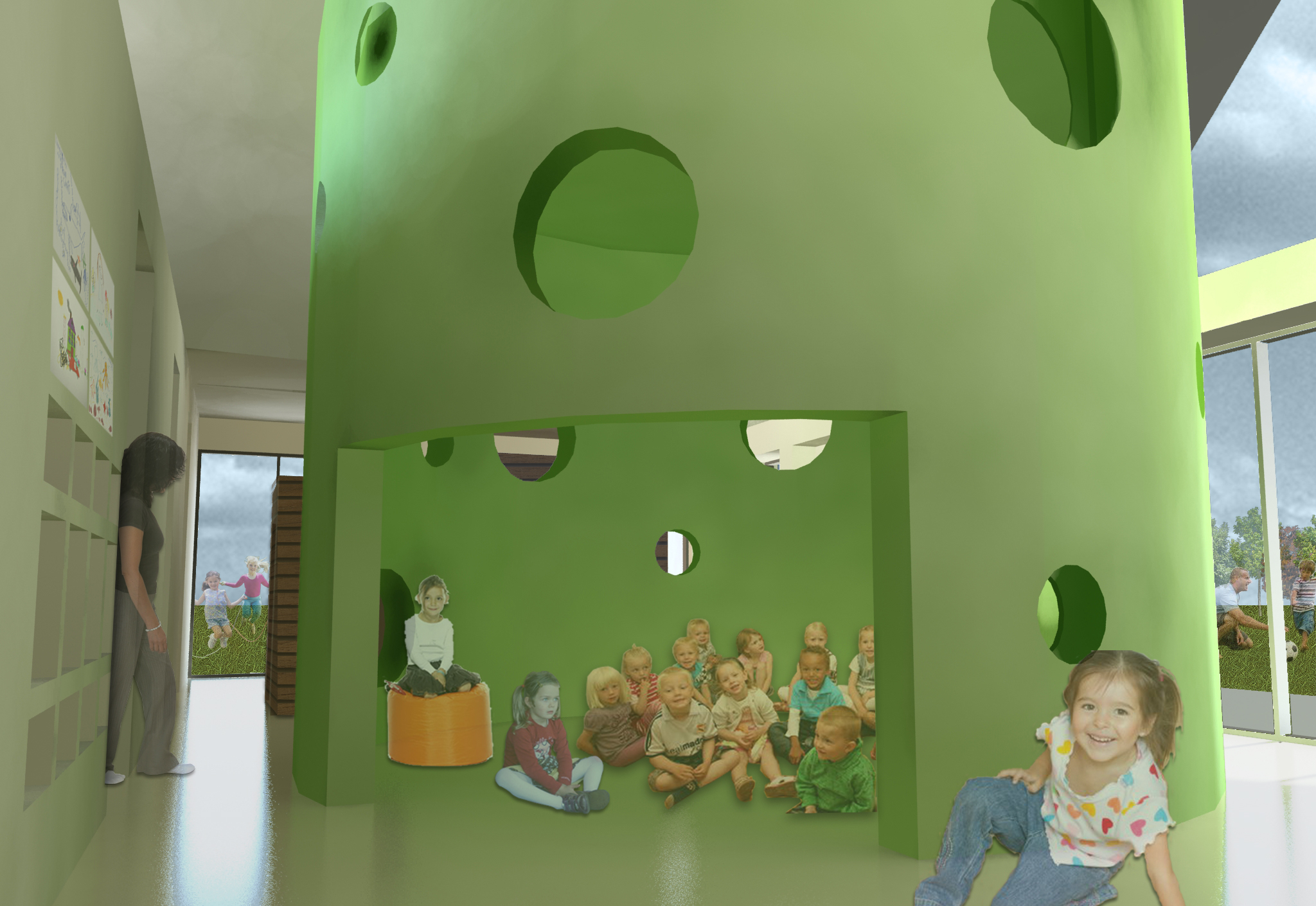 Kig ind i Eventyrhulen, hvor børnene får historie eller hygger sig med en film.
ID: 17637048