Student thesis: Master Thesis and HD Thesis
This project proposes a new design for a meal trolley used on commercial aircrafts. Focal points for the project are to improve the ergonomics of the trolley, providing the cabin crew with more comfortable working conditions. Furthermore, there is also great awareness concerning reducing the total weight of the trolley, as weight has an enormous significance regarding the fuel efficiency and sustainability of
the airline. It is desired to create a solution adapting the visuals of the trolley for a more friendly design overall.
The trolley f'Lite has a vertical capacity of 14 trays and weighs 17 kg, which makes for a reduction of 3 kg compared to the existing model. It is distinctive in its form, clearly showing the handles and areas for interaction, making the access intuitive with separate handles for pushing and pulling the trolley. The handles are adapted with rounded edges making the service more ergonomic and thereby minimizing industrial injuries in an environment heavily dominated by repetitive motions.
f'Lite is equipped with twin doors at working ends, providing the possibility of maneuvering the doors on very little space. The doors open and close independently and the handles are placed high on the trolley, making it possible to unlock, open, and swing the door on to the side of the trolley in one fluent motion. During meal service, the doors will stay locked to the trolley's side by means of magnets.
The outer dimensions of f'Lite is unchanged compared to existing models making it entirely useful in today's aircrafts, fitting in with both galleys and the catering companies production line.
The result is a meal trolley with rounded edges and clean surfaces for an overall friendly design. Its visual quality is a result of integrated design, combining ergonomics, mechanics, and service for a solution with high priorities regarding both function and aesthetics.
| | |
| --- | --- |
| Language | Danish |
| Publication date | 2 Jun 2010 |
| Publishing institution | Aalborg Universitet |
Images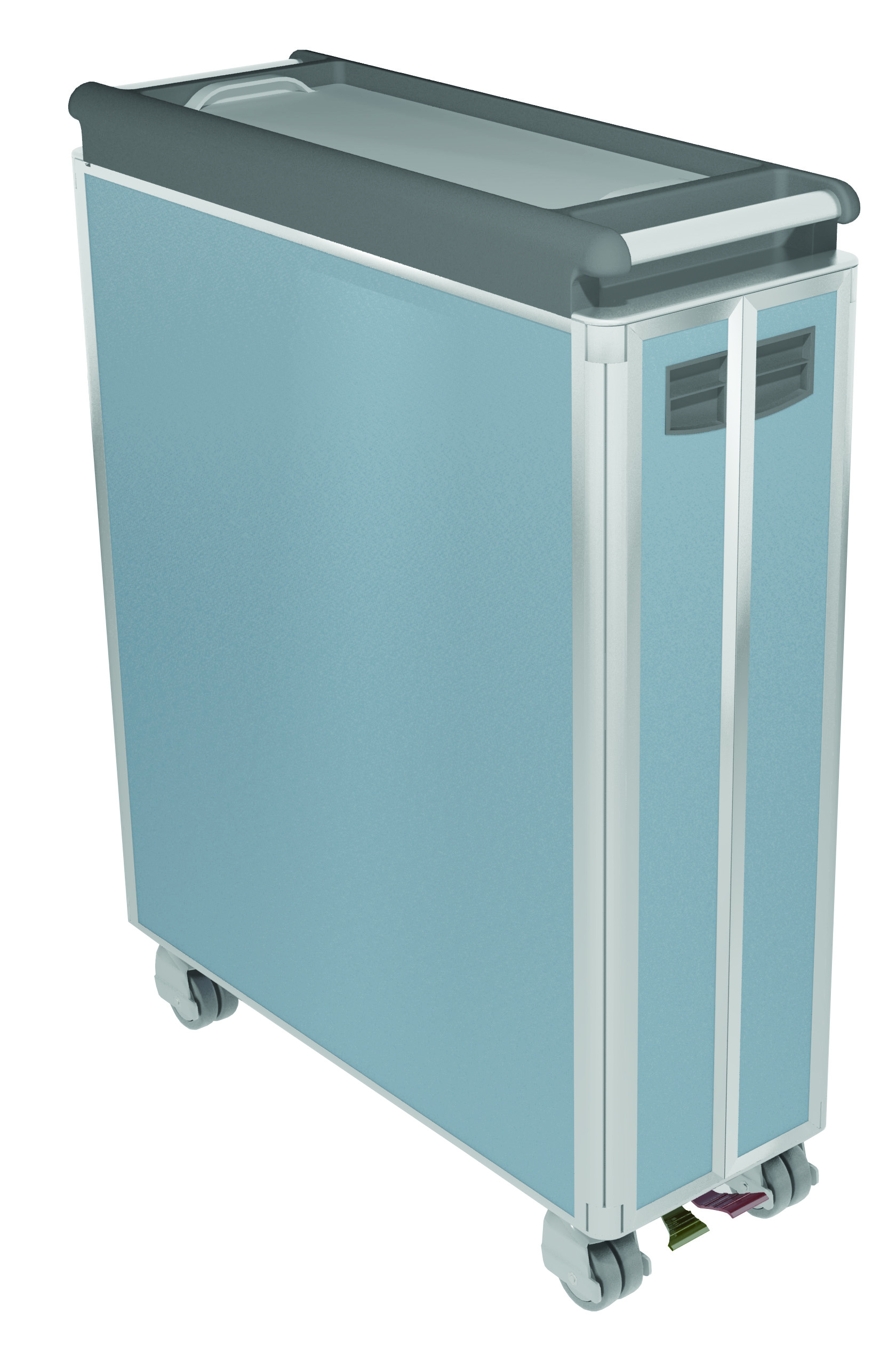 f'Lite inflight trolley
ID: 32250046