Student thesis: Master thesis (including HD thesis)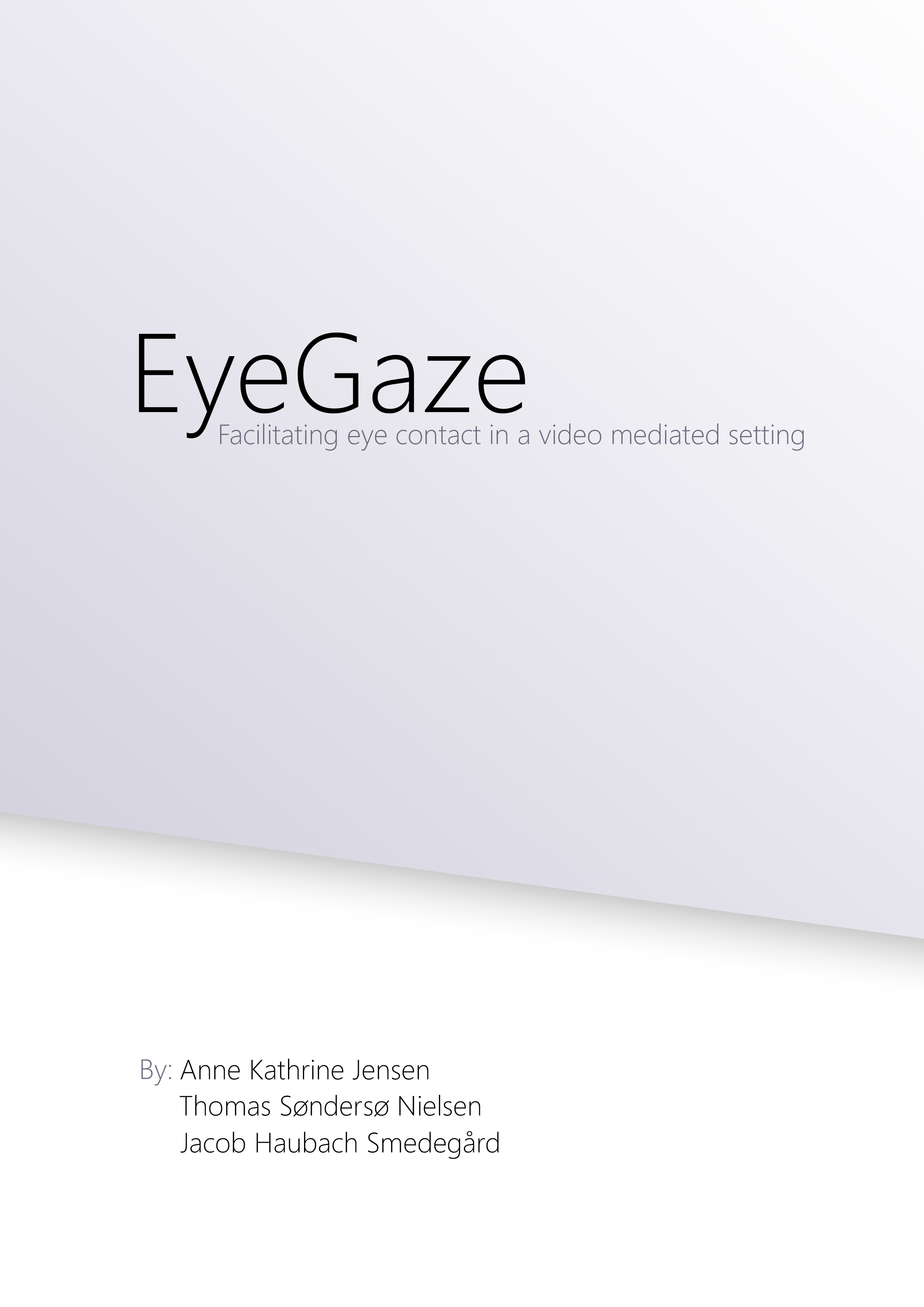 Thomas Søndersø Nielsen
Jacob Haubach Smedegård
Anne Kathrine Jensen
In this Master Thesis we present a novel approach to video mediated communication called EyeGaze.
EyeGaze facilitates eye contact in a conversation by rendering a person from a virtual perspective
based on head tracking data of the observer. In a conventional video communication system, the
camera is forced to be placed on top of, or to the side of the screen, due to the opaque nature of both
the camera and the screen technologies. In order to obtain a sense of mutual eye contact, you would
be required to look at two places at once, a feat most people would find challenging. EyeGaze solves
this problem by using 3D depth sensing cameras placed strategically around the screen in order to
capture the person in full real-time 3D. The 3D model is generated by merging depth frames from
each camera into a single 3D model. We represent the 3D model as a voxel array in GPU memory,
which facilitates merging new frames easily, as well as providing tolerance against missing data in the
depth frame.
Our main contribution spans two articles, one detailing the technical aspects of the EyeGaze implementation
called "EyeGaze: Eye Contact and Gaze Awareness in Video" and one detailing a within-subject
study of the EyeGaze system called "EyeGaze: A Comparative Analysis of Video Mediated Eye Contact".
Our technical article presents the EyeGaze system and frames it in related literature on video mediated
communication and advancements made to facilitate nonverbal cues in such settings. The article then
details the EyeGaze system and the implementational aspects of our prototype. Finally a formative
assessment of the performance and quality of EyeGaze is presented.
The second article presents a comparative study done on the EyeGaze system. We summarise the
literature pertaining to the role of eye gaze in communication and studies which explore the effects of
eye contact in virtual avatar representations. We then describe our within-subject study, the procedure,
and the questionnaire which the participants answered directly after each session. Our findings are
presented, showing that the EyeGaze prototype results in a significantly better sense of eye contact between
the participants compared to a Skype video conversation. Other findings points to a better sense
of involvement and turn-taking when using EyeGaze and a general positive bias towards EyeGaze in
the responses.
| | |
| --- | --- |
| Language | English |
| Publication date | 17 Jun 2013 |
| Number of pages | 38 |
ID: 77677962