Student thesis: Master Thesis and HD Thesis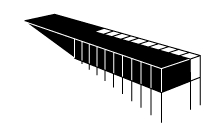 Nicolai Mai Jørgensen
Christoffer Andersen
This report represents the work conducted during the Master's thesis at Aalborg University by Christoffer Andersen and Nicolai M. Jørgensen.

The thesis focuses on building in the natural environment, and enhancing the experience hereof by means of tectonic solutions. This is explored through the projecting of a design proposal for a whisky distillery on Iceland.

The scope of the project spans from selecting a suitable site, putting together a program for the building and making the final design proposal for the project.

The project will base itself on an on-site approach were phenomenological experiences goes hand in hand with theoretical readings and quantitative data. This will lay the basis for the design.

The reports culminates in a proposal for a destination distillery located on Iceland in close relation to the natural surroundings. Included in the distillery are spaces for the distilling process itself, as well as for the required utilities and storage. An nonadministrative area, as well as a Visitors Centre with a café, shop and a bar, is also incorporated in the building.
A guided tour through the processes is a central part of the project, connecting to the nature staged through framed views to the outside.

Building in a natural context requires great respect for the surroundings. However, building in an un-built environment can be mutual beneficial for the project.
| | |
| --- | --- |
| Language | Danish |
| Publication date | 23 Jun 2017 |
| Number of pages | 203 |
ID: 257753639