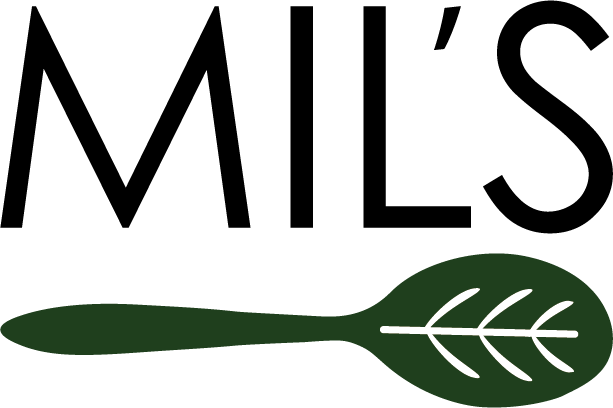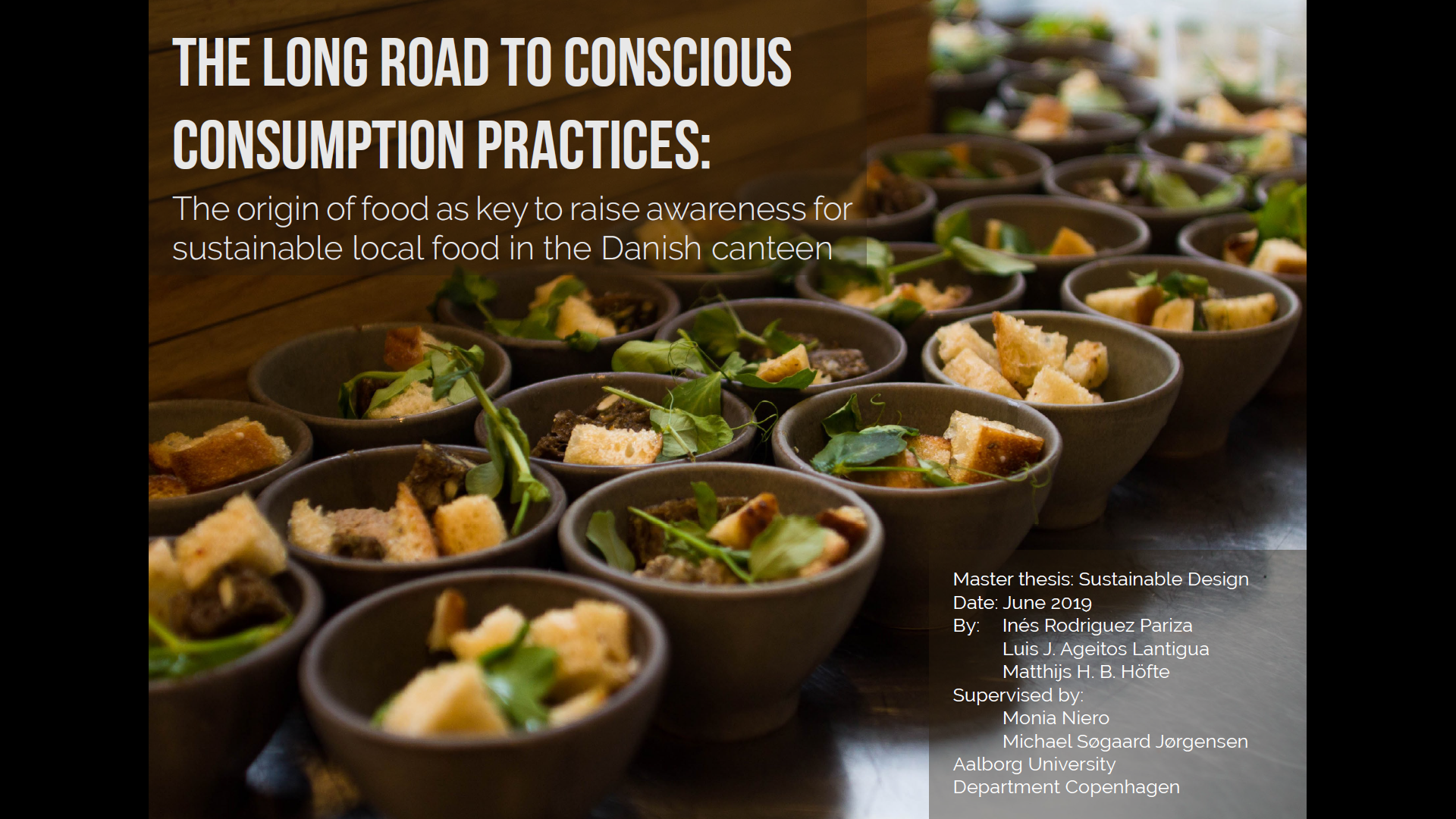 Matthijs Henricus Bernardus Höfte
Ines Rodriguez Pariza
Luis Jose Ageitos Lantigua
This thesis aims to understand the creation of conscious consumer practices in the Danish
canteen context (under the framework of practice theory) and introduces a 'design thing'
to facilitate a dialogue among consumers and indirectly with other stakeholders to realise
steps towards more local food consumption as example issue for sustainably conscious
consumption.

We studied the main issues around food consumption and gained an overview of its
complexity from literature to approach the locality of products as our main point of
interest. Numerous researchers agree that local food consumption would support the
local economy and create a social reconnection between producer and consumer and for
certain products reduces environmental impact. Institutions like the European Union and
the United Nations also demand food organisations to be transparent with information
about food for consumers to make more conscious choices, especially the EU with new
regulation demanding to explicitly point out the origin of main ingredients of products..
Via interviews with relevant catering professionals, observations and questionnaires in
three canteens, we created an overview of the practice of 'lunching at the canteen'. This
gave us multiple viewpoints on obstacles to overcome and opportunities for change in a
restricted context of a Danish canteen.

In the sequential design process, we worked with an iterative design object(design thing).
This object used information on the origin of food as main subject for a dialogue on the
concerns of locality between consumers and client in the context of one example canteen.
Our final findings are from reflections on the construction of this object and documented
consumers interactions. Here, we found successful qualities for further development in
starting discussions between consumers on what they like to eat at the canteen and the
related environmental concerns of their canteen food. We saw a holistic approach to work
best, where the consumer could become conscious by mixing subjects of interest like
the creation of a canteen recipe with environmental impact information in the form of
comprehensible labels.
| | |
| --- | --- |
| Sprog | Engelsk |
| Udgivelsesdato | 7 jun. 2019 |
| Antal sider | 110 |
Billeder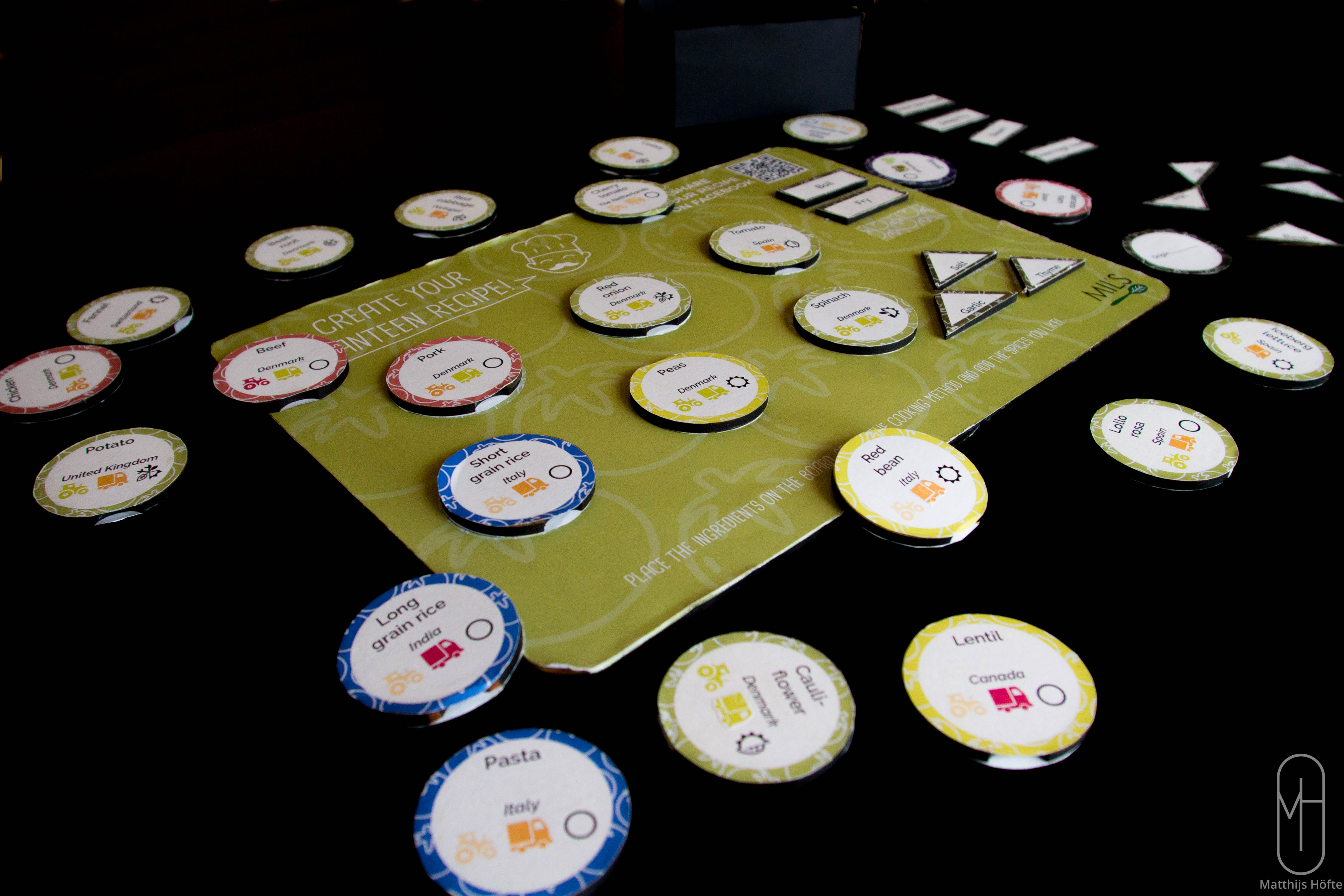 Create your canteen recipe
ID: 305323643