Studenteropgave: Kandidatspeciale og HD afgangsprojekt
Nina Bjerknæs Larsen
Jesper Landbo Jørgensen
Dennis Guldbrandsen
Within the gaming industry, it is still not common to follow a specific development method, in order to create a fun product. The industry is still marked by its very beginning, where it was seen as a less serious enterprise ‐ a hobby. Unfortunately, as game productions have gotten larger, not all companies have followed through and structured their development process. Although several game developers such as Tracy Fullerton and Dan Irish have tried to formulate well‐tried processes, there is still need for additional research. Master students with an interest in this area have examined the "old" texts again and again, to clarify what it takes to develop a fun game. Is there possibly an unknown magic formula which the gaming industry can use to earn an extensive amount of money? – We all wait for the day when this will be found, where practice and theory can be combined in a viable development approach. When we go through different product and academic development methods, we find that something is missing. Often, an important part is forgotten or downgraded: Tests performed by the target audience. We all know how frustrating it is when a program or game is not working or not working as we wish it would. Either we learn to live with it as it is, or we find another program or game that can satisfy our needs and wishes. All businesses want to hold the largest market share, to maintain a larger income. To achieve this, it is our position that companies need to focus more on testing their products. It is not enough that one or more employees conduct those tests and consider various usability errors. They need to get help from the target audience to test what they like and do not like about the product. The companies will have formed some experience over the years, but players expect new challenges, new initiatives. If the companies just conduct their usual routines, how can they ever earn more market shares? In this thesis, we focus on the development of a test where the target audience are children. We have had a positive attitude from the beginning, and a hypothesis that it should be possible to develop a general method that can not only be used on a single type of game, but can be used every time a new product is developed. The method should be easy to use, profitable for the company and also generate useful data. We have no past experience with method development, so we contacted four firms: The Game Factory, ITE, Ivanoff Interactive and Tonic Games, to see which tests they carry out in the product development process, if any. We have also been in collaboration with Tonic Games in order to use a game that is still in the development stage for our case study in order to conclude whether we obtain useful data from our method. The test procedure has been developed in combination of our experience from previous projects, empirical research and the involvement of various theories. A thesis that contains a large proportion practical experience, can quickly turn out to be descriptive rather than critical and argumentative, hence we have chosen to involve reasoning theory as an aid to raise the level of the thesis. Through our investigation we have managed to put together a flexible method, which we believe could be used in the development of computer games where the target audience are children. The flexibility of the method lies within the company's ability to balance their resources. If some parts of the method have already been reviewed in previous tests, such as drafting a contract, this can be minimized, and time spent during the testing phase during development is thereby abridged. With our test method we have achieved what we wanted in this thesis: to develop a general method for testing computer games, that have children as target audience.
| | |
| --- | --- |
| Sprog | Dansk |
| Udgivelsesdato | 2009 |
| Antal sider | 196 |
| Udgivende institution | Aalborg Universitet |
Emneord

Game Based Learning

,

Leg-og-lær

,

Testmetode

,

Udvikling

,

Multimedier

,

Computerspil

,

Børn

,

Metodeudvikling

,

Interview

,

Observation

,

Deltagende observation

,

Nonverbal kommunikation

,

Argumentationsteori

,

Musiklæring

,

Leg

,

Læring

,

2D

,

Spil
Billeder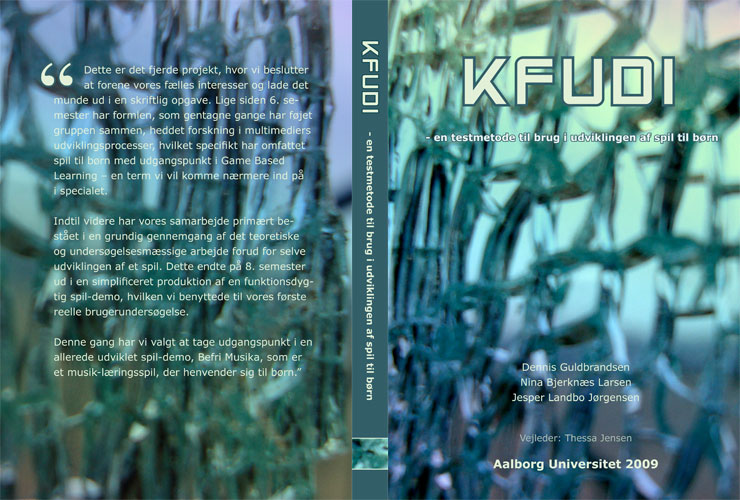 Bogomslag.
ID: 17980573